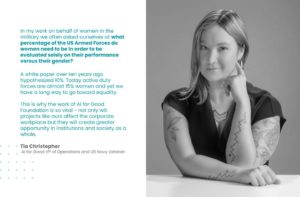 This week's blog is by our VP of Operations, Tia Christopher. In continuing to help our supporters learn more about the team behind AI for Good Foundation, we are highlighting the SDGs that we personally identify with.
Two headlines stood out this week, "Navy selects first woman to go directly into flying the F-35C after earning her wings" and "A woman just graduated the US Army's sniper school for the first time ever." As a woman Veteran of the US Armed Forces, I cheered inside. Look what these women are doing! How exciting is it that there are so many opportunities available to women in 2021. However, at the same time, the emphasis on "first woman," and "the first time ever" were frustrating.
At what point will the firsts stop and the squadrons and sniper schools be filled with women? When will women be looked at more for their skill than their gender? When I served in the US Navy, it was not uncommon to be the only woman in a room of 100 or more. According to a May 2020 GAO Report, 
"Overall, the percentage of female active-duty servicemembers slightly increased from fiscal year 2004 through 2018. However, our analyses also determined that for fiscal years 2004 through 2018, female enlisted servicemembers and commissioned officers had higher attrition rates than their male counterparts, and the percentage of female active-duty servicemembers began to decrease at the 10–to-less-than-20-years of service career point, meaning a smaller pool of female servicemembers being available for leadership opportunities. We also found that female servicemembers are generally more likely to separate from the military, and that the reasons active-duty servicemembers separate from the military vary by gender, pay grade category, and length of service. In addition, other factors—such as access to quality childcare or family planning."
Yes, the percentages of women in the US military are increasing- but the levels of representation in leadership are still fluctuating. Lack of adequate childcare and maternity leave present the same challenge that many women in corporate America face- do I choose my family or career? In 2021 this should not be a necessary choice.
Race and ethnicity also factor in when it comes to equality and representation among the Armed Forces. According to the Council on Foreign Relations, federal statistics show the enlisted ranks of the US Military for both men and women to be almost half and half minority/ non-minority. In 2017, The Pew Research Center listed DOD numbers illustrating the disparity between diversity enlisted versus officer personnel. The enlisted military was 19% African American in 2017; however, only 9% of officers were listed as African American- and African American, and this is the highest minority group in the service.
This again raises the issue of equitable representation. Having a greater spread of gender, race, and ethnic demographics is not simple, nor should it be. Analysis must be conducted on leadership versus entry-level and whether minority women are equally represented in promotion practices and career opportunities. Often the policies and practices of the military – which is really a microcosm of society- pre-date change in the civilian sector. When will we see resilient diversity and equity in both worlds?
At the AI for Good Foundation, we are looking at data sets, patterns, and how machine learning can positively affect society's greatest challenges. When looking at the UN SDGs, we come to SDG 5: Gender Equality. The issues related to gender equality that we often see highlighted are around childbirth, microloans for women-owned small businesses, and the needs of women and girls in Developing Nations. To adequately and authentically address gender equality and equity, we need to look at the nuances within the labor market and shine a harsher lens on Developed Nations and hold them accountable.
Through AI for Good Foundation's Diversity, Equity & Inclusion initiative, we are building a digital scorecard that evaluates corporations based on both hiring and promotion practices. What percentage of a company's leadership is made up of women vs. what percentage of their workforce is made up of women. Optimistically, we can project that women will be represented across a company's hierarchy, and gender disbursement throughout the ranks of the US military will be more diverse- across all ranks and positions. 
Until the data reflects this vision, optimism will be a challenge. However, if there is anything that a career in nonprofits after serving in the military has taught me, "We are stronger than we think we are." Women are tenacious and will continue to rise in the employment sector and demand equal pay and the ability to raise a family and have a career. Women in the military have made a difference over the generations regardless of recognition. In World War II, the WASPs (Women Airforce Service Pilots) were civilian volunteers who flew as test pilots and to ferry planes. In 1977 WASPs were finally given Veteran status and in 2009 President Barack Obama gave them the Congressional Gold Medal.
Throughout the conflicts in Iraq and Afghanistan, women from all US branches have served in combat units and have heroically supported and led units. In 2016 all combat jobs were opened to women; however, an example of women serving in combat pre-dating the 2016 official announcement are the Lioness units. If you are unfamiliar with their story, please check out the media available. Overall, the history of women in service is long and empowering. Over the years I have been mentored by amazing women veteran leaders. Today it makes me smile to see young women going to ranger school. 
On this Veterans Day, let us honor the women and men who have paved the way both in the United States Military and in their careers when they hung up the uniform. As an international nonprofit, AI for Good Foundation joins our colleagues in support of the UN's dream of gender equality. By utilizing AI to measure and accelerate the SDG goals, we believe that equality and equity and inclusion are possible.