AI for Good Foundation Fellowship Program
Each Summer AI for Good Foundation invites Undergraduate, Graduate and Post-Doctoral applicants for our competitive Summer Fellowship Program.
---
This week, we hear from Sustainable Development Policy Fellow Mariana Rufin: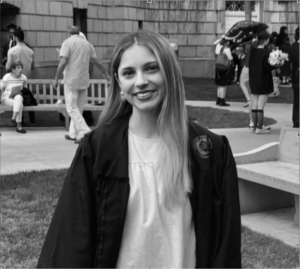 TELL US A LITTLE ABOUT YOURSELF, AND WHAT ATTRACTED YOU TO STUDYING/WORKING IN AI/ SDGs
I grew up around Boston, but I went to school in Upstate New York, in Syracuse, and live in New York City currently. At Syracuse, I studied political science and environment, sustainability, and policy, and had a desire to work in politics or in the nonprofit sector since high school.
While I never before had a strong desire to work in tech or with artificial intelligence, mostly due to a lack of knowledge about either topic, I have always been interested in doing work that corresponded to environmental or social justice, and humanitarian work.
While in college I was able to understand that I had a specific interest in community improvement and working in roles that emphasized research and political advocacy, which led me to several of the experiences that I had at nonprofit organizations over the last four years, and ultimately my decision to apply for the Fellowship with AI for Good.
All of the coursework I engaged with and my experiences working with organizations that had local influence helped me to understand the role that these institutions play in creating more equitable communities, as well as strengthening a community against climate caused threats.
WHAT EXCITES YOU MOST ABOUT AI 4 GOOD?
The breadth and depth of research- and discovery- that this organization accomplishes is incredibly impressive and inspiring. More than in any other position I feel as if my time with AI for Good has been my most productive and rewarding experience, and has helped me to understand what I would like the rest of my career in nonprofits to look like. Before I took the time to understand AI, I was not aware of the ways that this technology coalesced with the Sustainable Development Goals, but in every project I have worked on there has been an explicit focus on social and environmental impact.
I am excited to see how AI, machine learning, and other forms of predictive technology can be used to promote change from a variety of perspectives, as I am excited to continue in my path of knowledge on this subject.
WHERE DO YOU SEE YOURSELF IN 5 YEARS TIME?
In five years, I hope to be either on the path working towards a graduate degree in environmental policy or food studies, or continuing to work in the nonprofit sector. While I do not have a preferred role in the latter, I hope that in the coming years I am able to gain even more experience in the different aspects of nonprofit work that I have an interest in, such as grant writing, research, marketing, and grassroots advocacy, and hopefully learn to take an interest in other aspects of the industry as well.
WHAT DO YOU LIKE TO DO IN YOUR SPARE TIME?
I've always been passionate about cooking and food studies, and started to take an active role in advancing my cooking skills a few years ago. I cook almost every day, and when I'm not in the kitchen I run a personal food account on Instagram and write freelance articles about recipes and other assorted topics.
---
Our fellows have a critical impact in the work we do at AI for Good Foundation.  You can learn more about AI 4 Good's Policy Fellowship and AI Fellowship here.