Climate Action
Take urgent action to combat climate change and its impacts
The global temperature has already risen 1.1ºC above the pre-industrial level, with glaciers melting and the sea level rising.  Impacts of climate change also includes flooding and drought, displacing millions of people, sinking them into poverty and hunger, denying them access to basic services, such as health and education, expanding inequalities, stifling economic growth and even causing conflict.   By 2030, an estimated 700 million people will be at risk of displacement by drought alone.
Taking urgent action to combat climate change and its devastating impacts is therefore an imperative to save lives and livelihood, and key to making the 2030 Agenda for Sustainable Development and its 17 Goals – the blueprint for a better future – a reality.
In 2020, concentrations of global greenhouse gases reached new highs, and real-time data point to continued increases. As these concentrations rise, so does the Earth's temperature. In 2021, the global mean temperature was about 1.1°C above the pre-industrial level (from 1850 to 1900). The years from 2015 to 2021 were the seven warmest on record.
To limit warming to 1.5° Celsius above pre-industrial levels, as set out in the Paris Agreement, global greenhouse gas emissions will need to peak before 2025. Then they must decline by 43 per cent by 2030 and to net zero by 2050. Countries are articulating climate action plans to cut emissions and adapt to climate impacts through nationally determined contributions. However, current national commitments are not sufficient to meet the 1.5°C target.
Sustainable Development Goals
The 2030 Agenda for Sustainable Development was adopted by all United Nations Member states in 2015, an agenda that provides a shared blueprint for peace and prosperity for people and the planet, now and into the future.
The 17 Sustainable Development Goals (SDGs) are an urgent call for action by all countries – developed and developing – in a global partnership. They recognize that ending poverty and other deprivations must go hand-in-hand with strategies that improve health and quality education, reduce inequality, and spur economic growth – all while tackling climate change and working to preserve our oceans and forests. Learn more about the UN SDG's.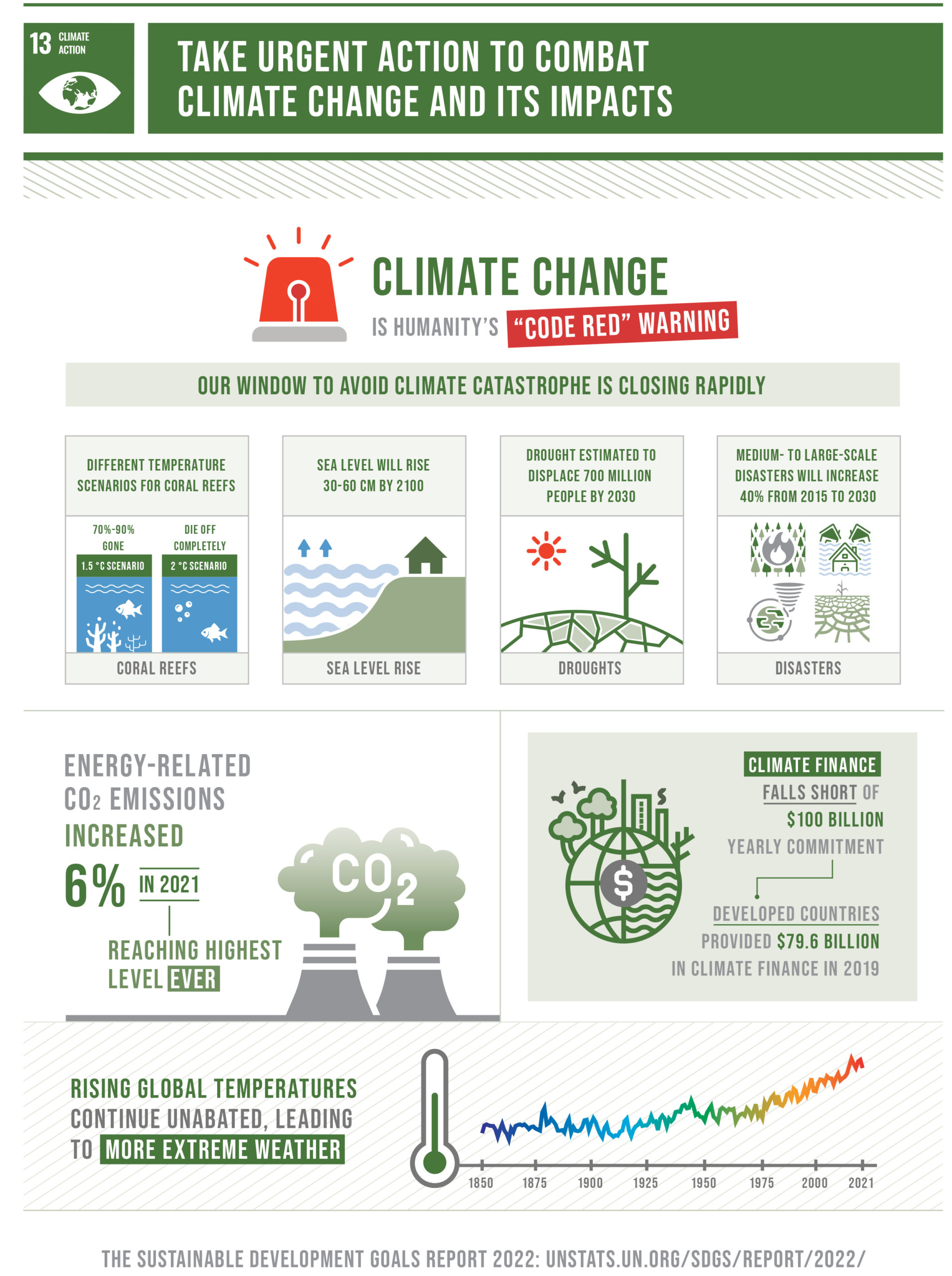 What's the goal here?
Taking urgent action to tackle climate change and its impacts.
Why?
The climate crisis continues unabated as the global community shies away from the full commitment required for its reversal. 2010-2019 was warmest decade ever recorded, bringing with it massive wildfires, hurricanes, droughts, floods and other climate disasters across continents.
How are people being affected by climate change?
Climate change is affecting every country in the world. It is disrupting national economies and affecting lives and livelihoods, especially for the most vulnerable. Weather patterns are changing, sea levels are rising, and weather events are becoming more extreme, affecting more than 39 million people in 2018.
What happens if we don't take action?
If left unchecked, climate change will cause average global temperatures to increase beyond 3°C, and will adversely affect every ecosystem. Already, we are seeing how climate change can exacerbate storms and  disasters, and threats such as food and water scarcity, which can lead to conflict. Doing nothing will end up costing us a lot more than if we take action now. We have an opportunity to take actions that will lead to  more jobs, great prosperity, and better lives for all while reducing green– house gas emissions and building climate resilience.
Can we solve this problem or is it too late to act?
To address climate change, we have to vastly increase our efforts. Much is happening around the world – investments in renewable energy have soared. But so much more needs to be done.
The world must  transform its energy, industry, trans– port, food, agriculture and forestry systems to ensure that we can limit global temperature rise to well below 2°C, maybe even 1.5°C. In December 2015, the world took a significant first step by adopting the Paris Agreement, in which all countries committed to take action to address climate change. Many businesses and investors are also committing themselves to lower their  emissions, not just because it is the right thing to do, but because it makes economic and business sense as well.

Are we investing enough to tackle climate change?
Global climate-related financial flows saw a 17 per cent rise from 2013 to 2016, largely due to private investment in renewable energy, which represents the largest segment in total climate-related flows, to the  amount of $681 billion.
However, investment in fossil fuels continues to be higher than in climate activities to the amount of $781 billion in 2016. To achieve a low-carbon, climate- resilient transition, a much       greater scale of annual investment is required. In 2019, at least 120 of the 153 developing countries had undertaken activities to formulate and implement National Adaptation Plans to enhance climate adaptation  and resilience, an increase of 29 coun– tries over the previous year. Furthermore, progress in meeting the 2020 disaster risk reduction target has been slow.

What can I do to help achieve this goal?
There are many things that each of us can do as individuals.
To find out what you can do, go to: un.org/en/actnow
To read more about the UN's efforts on climate change: un.org/en/climatechange
To find out more about Goal #13 and other Sustainable Development Goals, visit: un.org/sustainabledevelopment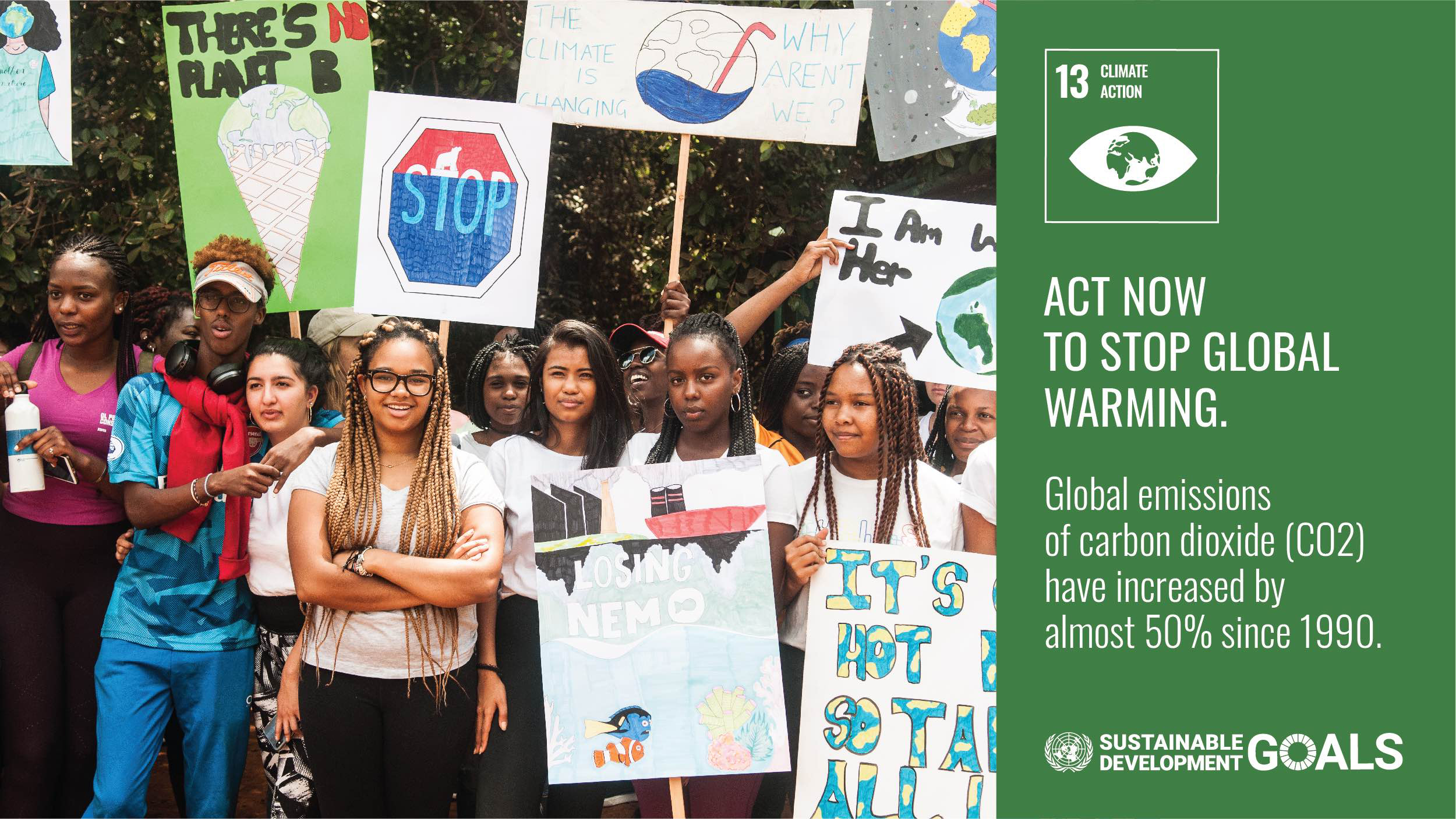 Facts and Figures
In 2021, the global mean temperature was about 1.1°C above the pre-industrial level (from 1850 to 1900). The years from 2015 to 2021 were the seven warmest on record.
The global annual mean temperature is projected to rise beyond 1.5°C above pre-industrial levels in at least one of the next five years.
Global carbon dioxide (CO2) emissions declined by 5.2 per cent in 2020 due to lowered energy demand caused by COVID-19-induced social and economic disruptions. But with the phasing out of COVID-related restrictions, energy-related CO2 emissions for 2021 rose by 6 per cent, reaching their highest level ever.
Climate finance provided and mobilized by developed countries totalled $79.6 billion in 2019, up from $78.3 billion in 2018. It is estimated that $1.6 trillion to $3.8 trillion will be needed each year through 2050 for the world to transition to a low-carbon future and avoid warming exceeding 1.5 °
About one third of global land areas will suffer at least moderate drought by 2100.
The sea level could rise 30 to 60 centimetres by 2100, even if greenhouse gas emissions are sharply reduced and global warming is limited to well below 2°C.
About 70 to 90 per cent of warm-water coral reefs will disappear even if the 1.5°C threshold is reached; they would die off completely at the 2°C level.
3 billion to 3.6 billion people live in contexts that are highly vulnerable to climate change.
By 2030, an estimated 700 million people will be at risk of displacement by drought alone.
Source: The Sustainable Development Goals Report 2022
Goal 13 targets
13.1 Strengthen resilience and adaptive capacity to climate-related hazards and natural disasters in all countries
13.2 Integrate climate change measures into national policies, strategies and planning
13.3 Improve education, awareness-raising and human and institutional capacity on climate change mitigation, adaptation, impact reduction and early warning
13.A Implement the commitment undertaken by developed-country parties to the United Nations Framework Convention on Climate Change to a goal of mobilizing jointly $100 billion annually by 2020 from all sources to address the needs of developing countries in the context of meaningful mitigation actions and transparency on implementation and fully operationalize the Green Climate Fund through its capitalization as soon as possible
13.B Promote mechanisms for raising capacity for effective climate change-related planning and management in least developed countries and small island developing States, including focusing on women, youth and local and marginalized communities
*Acknowledging that the United Nations Framework Convention on Climate Change is the primary international, intergovernmental forum for negotiating the global response to climate change.
Links:
UN Framework on the Convention on Climate Change
World Meteorological Organization
UN Environment – Climate Change
Intergovernmental panel on Climate Change
---

We, at AI for Good foundation, are using AI + ML initiatives in pursuit of the 17 SDGs. With various projects in progress, such as our Climate Trend Scanner and the SDG Data Catalog, we are determined to help and facilitate achieving the goals.