Today: LifeForce, Ukrainian-Built Humanitarian Platform Launches Across Ukraine, Will Save Lives
San Francisco, CA and Kyiv, Ukraine – Today, the AI for Good Foundation is announcing the launch of LifeForce in Ukraine. LifeForce provides real-time access to aid and basic needs from over 17,000 locations across the country, coordinates grass-roots humanitarian efforts, and renders war-time supply chains and logistics resilient to attack.
The technology – built by the Foundation's Ukrainian development team, and with close to 40 full-time Ukrainian staff across the country, addresses several key challenges in the provision of aid during active conflict.
First, identity verification, user authenticity, Geo-verification, and military grade security ensure that only real users in deployed cities are able to access information and make requests.
Second, the platform allows existing stores, pharmacies, and civilian infrastructure to be listed alongside humanitarian efforts, providing the most comprehensive view of the available resources in a region.
Third, individuals can gain access to resources and information that is highly accurate and on-demand–avoiding lines at stores, wasted trips, or risk-taking at dangerous times.
Lastly, LifeForce limits the ability of the Russian military to leverage humanitarian and logistics data to target civilian infrastructure – a common tactic since the beginning of the war.
Ukrainians requesting service can visit mysyla.org. This first iteration of LifeForce is focused on connecting civilians with vital supplies: food, medicine, basic goods, and shelter. We are currently operating in 3 major Ukrainian cities: Kyiv, Odesa, and Kharkiv, with more cities coming online in the coming weeks.
LifeForce represents a different kind of humanitarian aid, powered by advanced computing and Artificial Intelligence. It works with communities to connect resources and build resiliency, rather than imposing structures that disappear as media attention fades. The technology can be deployed to almost any natural disaster or conflict zone within 72 hours, and is anticipated to have a big impact in Ukraine and beyond.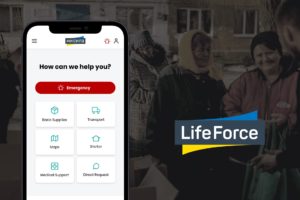 "The AI for Good Foundation is at the forefront of using advanced technology to help communities protect one another in the face of disaster. I'm proud of our entire team, but especially our Ukrainian staff, who have worked every day for nearly 6 months to build the next generation of humanitarian technology that will have immediate, live-saving impact in Ukraine."

-Tia Christopher, COO of the AI for Good Foundation.
LifeForce uses military-grade security, protecting against Russian hacking and cyber-warfare that use open humanitarian data and technology to attack civilians.
"Ukrainians are directly under attack, and we need to have humanitarian systems that work for all people. From the beginning of the Russian invasion, we liaised closely with the Ukrainian Government, along with partners from around the world, to develop LifeForce. It will fill a critical and recognized need on the ground, and we look forward to continuing to work with our partners and staff in Ukraine to protect civilians and save lives."

-Anastassia Fedyk, Chief Economist at the AI for Good Foundation and Professor at UC Berkeley.
---
ABOUT THE AI FOR GOOD FOUNDATION
The AI for Good Foundation is one of the main humanitarian organizations working on the ground in Ukraine since the Russian invasion. In addition to LifeForce, the Foundation has launched Svidok.org, the leading independent war journal and war crimes evidence platform, the Economists for Ukraine (econ4ua.org) initiative, and is an integral member of the Yermak-McFaul International Working Group on Sanctions and Ukraine rebuilding efforts. For more information, please click here.